The Story of the Illy Family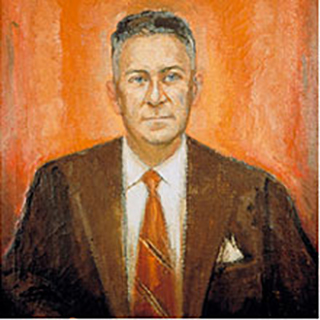 Francesco Illy
Inventor of the Espresso Coffee and Pressurisation.
In 1935, my grandfather Francesco Illy patented the Espresso. He was the first person, with his "illetta" espresso coffee machine, to produce coffee brewing pressure with a separate compressor, enabling him to reduce the water temperature below 95°C and raise the pressure to 9 bar. All professional espresso machines in coffee shops throughout the world still adhere strictly to these parameters today. In 1934, my grandfather patented pressurisation. Even today, all the coffee made by illycaffè Trieste, Amici in Switzerland, is pressurised to preserve it properly and increase its aromatic content.
---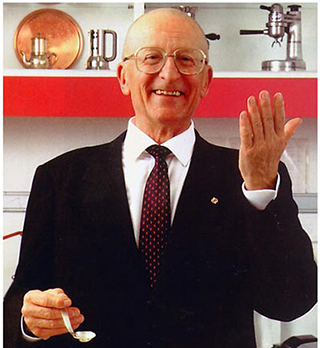 Ernesto Illy
Inventor of the Selection of Green Coffee, Pioneer of Espresso Coffee in Portions.
Towards the mid-Sixties, coffee, which had always been picked cherry by cherry until then, began to be harvested by stripping all the cherries off the branch to save time. This made it impossible to identify the defective cherries and was catastrophic for us, because pressurisation highlights all aromas, including defects and stinks. That was when my father made the most important decision of his life: instead of abandoning pressurisation, he decided to develop a system that would enable the elimination of defective cherries, one by one. And so electronic selection, now used in all coffee growing countries around the world, was born.
In around 1968, my father also decided to solve the problem of the preparation of espresso, which was a nightmare at the time.
I remember how it used to take my father over an hour to make his espresso after Saturday lunch! Wasting over 200 g of coffee every time, because he could never grind it perfectly!
So he invented a paper portion and worked on it for a very long time... until he'd made the first E.S.E. "pod", which is still considered to be the most eco-friendly way to make a good espresso at home.
---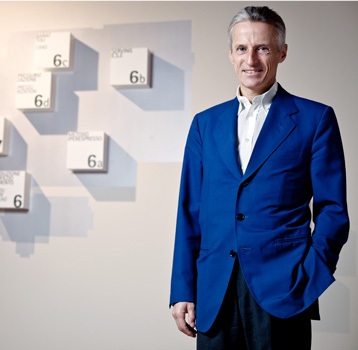 Riccardo Illy
In the 1980s he reinvented the 250g tin for the family.
My brother Riccardo created the illycaffè sales force in the 1980s, especially in Italy, where, in just a few years, he succeeded in imposing on the market a new way of drinking coffee, with his revisitation of the 250g tin of ground coffee for espresso machines and for the "Moka" stove-top coffee pot. This product is still greatly loved by coffee connoisseurs today, because it contains exactly the same blend as our 3 kg tin for professional use, pressurised.
---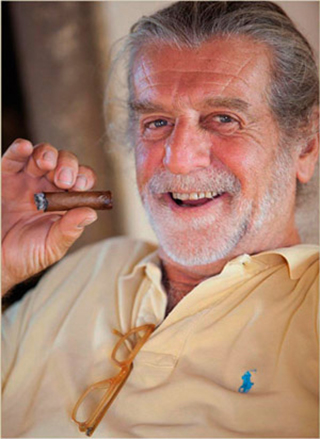 Francesco Illy
Francesco Illy (the Author): In 1982 I created the first 100% Arabica Espresso Blend.
Coffea Robusta develops lots of froth in espresso.
This is why my father blended 20 kg of Robusta with 100 kg of Arabica in every batch. But I hate Robusta, because it smells awful. It contains a molecule, ((-)-2-Methylisoborneol, which smells dreadfully of mould: a molecule and a stink which aren't found in Coffea Arabica. I can't remember how many years I spent arguing over it with my father, but in the end, we succeeded in roasting a 100% Arabica coffee which made an excellent froth. Since then, the so-called "illy taste" which determines the sensorial characteristics of the Amici blend, has always consisted of 100% Arabica coffee.
In 1991, with Matteo Thun, I created the Amici Collection series ("illy collection" in the rest of the world): I invited artists and creative professionals, even children, to decorate our new Espresso cups. It was an international success and hundreds of different versions have been made to date.
In 1995, together with Luca Trazzi, I created the first colourful designer Espresso machine for use at home, the now famous FrancisFrancis! X1, which became the collectively recognised icon of the Espresso machine.
Between 2004 and the present day, together with Professor Alessandro Parenti of the University of Florence, I have developed a new Espresso coffee brewing method which makes it even more creamy and aromatic: the Caffè Firenze. You'll hear about it in the years to come.
---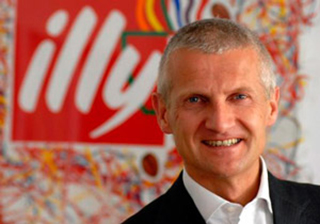 Andrea Illy
Andrea Illy reinvents the capsule for use at home: The Metodo IperEspresso.
In 2000 we felt the need to make coffee in portions even better: some of our customers, especially restaurant owners, complained that E.S.E. was not so easy to use, and we knew that the Espresso coffee residues that remained in the spout could oxidise, conveying unpleasant aromatic notes to the next beverage.
So Andrea decided to reinvent the plastic capsule invented many years earlier by Dino Macchi, the founder of UnoPer, which later became Lavazza Point. He began by making a capsule that poured the coffee straight into the cup, without delivering it through a filter and a spout.
But the IperEspresso capsule bears this name because the classic brewing phase is followed by an emulsifying phase. Then we had to solve the problem of many of our customers: thousands of coffee shops, restaurants and hotels all over the world were unable to offer their customers a perfect Italian espresso and wanted a system which would guarantee excellent quality while being easy to use.
After four years of development, in 2004, the IperEspresso capsule was born, and is used in over 10,000 venues throughout the whole world, in 153 countries. Nowadays, you can have this exact same system made up of capsules and machines at home too: it is the only system, born for professional use that is available for use at home too.
---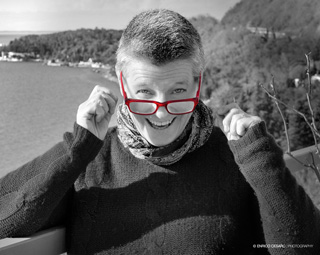 Anna Illy
Anna Illy Belci Is our Ambassador among the Coffee Growers.
My sister Anna started travelling to the producer countries, visiting the coffee growers with our father Ernesto at the beginning of the 90s. In the spring of 2016 we celebrated the 25th anniversary of the Award "Premio Ernesto Illy de qualidade para café Espresso, Brasil", so Anna has now been visiting all the countries where we buy our coffee non-stop for more than 25 years, and has made friends with thousands of coffee growers.
This huge effort made by my sister Anna, together with our agronomists, has enabled us over the decades to teach growers how to improve their quality. The fashionable concept of "best practice sharing" is constantly applied because, when we learn something, in Guatemala for example, we have the possibility to teach it to all our suppliers in all the other producer countries, within a few months. This creates quality for our customers and profitability for the coffee growers.
---
Annemarie Illy
Annemarie Illy at the helm of Amici Caffè AG in Steinhausen.
In 1979, we began this adventure called Amici Caffè, together, in Basel-Landschaft. In all these years, we have always worked together and now Annemarie is CEO of Amici, while I am Chairman. With her absolute dedication, Annemarie has made Amici the name of excellent coffee in Switzerland: the recognised specialist of Espresso.
---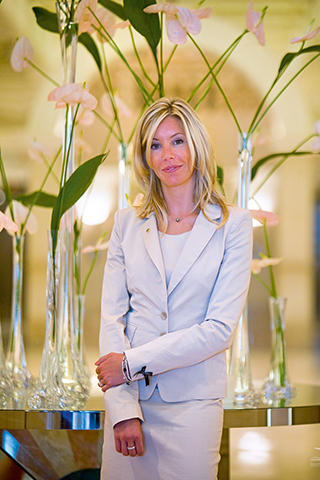 Daria Illy
Daria Illy: The Fourth Generation Begins.
My niece Daria, Riccardo's daughter, took care of hotel chains until just a few years ago. Now she is responsible for the development of new products.
---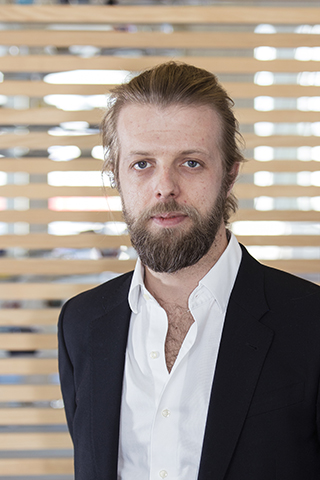 Ernesto Illy
Ernesto Illy, the Architect with a knowledge of Coffee.
My son Ernesto looked after our gastronomical customers in New York before devoting his attentions as an architect to the creation of our Bar Illy and Espressamente Illy venues. In 2016 he returned to Switzerland, where he works in marketing and sales, as well as innovation. He graduated from the Università del Caffè (illycaffè) with a Master's degree in Coffee Economics and Science.
---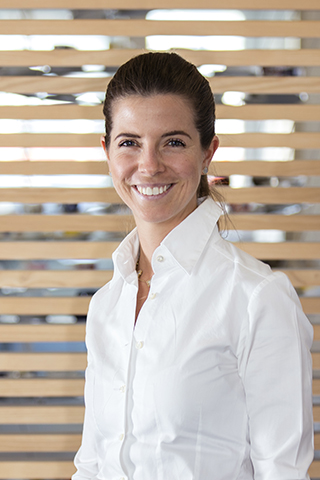 Vittoria Illy
Vittoria Illy, our Communications Specialist.
Vittoria has worked for Amici in Steinhausen for years and, after various other experiences at home and abroad, she now oversees communications and buying for Amici.
---