The Amici Cups
The Amici, Poi ti spiego and MOU cup collections embody a milestone in the history of Amici. Francesco Illy created this idea in collaboration with famous artists and designers. Encouraged by a deep inspiration, the artists, who represent very different environments and movements, transfer the most varied subjects to china cups.
Numbered and signed, these collectors' items have aroused the enthusiasm of collectors from all over the world for more than twenty years. At regular intervals, the range is joined by new designs:
Amici Collection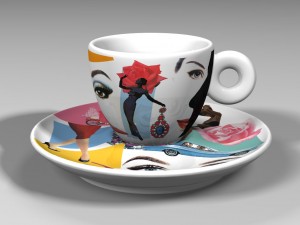 When culture becomes art. With its design, the cup is dedicated to consumers so that they can enjoy the incomparable pleasure of savouring their coffee break.
This collection was created in 1992 by small art studios. The original white cup by Matteo Thun is as simple as it is perfect. This object of outstanding beauty, with its handle and its characteristics, which highlight its simple elegance, has become a means of expression for acclaimed contemporary artists and young talents.
Each in a personal interpretation and with a great imagination, for the renewal of a pleasure shared by coffee lovers every day.
Poi ti spiego
Elegant, fine, delicate and sensual. These fine, very light cups tell a fascinating story which their design continues to pursue.
Great artists give the "Poi ti spiego" series its unique face.
"Poi ti spiego", which means "I'll explain later", presents a story full of infinite grace.
Collezione MOU
These cups characterised by a simple design have no handle and are accompanied by an unusual elegance.
The MOU collection is the work of two artists:
Karl Kreger has given his own personal interpretation, including raised coffee beans on the china to create the illusion that the cup is already releasing the intense flavour of coffee, even when it's empty.
In the collection bearing his name, Ron Anderson has given free rein to his colourful language with four subjects.
Since then, new artists have joined the project to open up new dimensions for their creativity: Claude Sandoz with designs inspired by the Caribbean, and Martin Bühler with the Haiku Collection.